Discover even more possibilities
Thank you to everybody who joined Alfa Laval for this year's ATMO virtual trade show. We hope you have gained valuable insight into some of the new ways you can optimize energy efficiency and sustainability with heat exchanger solutions for natural refrigerants. If you are looking to learn more about the possibilities that natural refrigerants can offer, we are here to help.
Below, you can browse some of the many resources we have developed to share our unique expertise in this area. As always, you can get in touch with more specific questions – we look forward to hearing from you.
Driving innovation for natural refrigerants
Accelerating sustainable solutions for natural refrigerants
At Alfa Laval, we don't just imagine a more sustainable world. We're building it – together with our customers and our partners. With relentless innovation, we're accelerating the transition away from today's refrigerants with high global warming potential (GWP). Visit our Sustainable Solutions page to learn more about how we're leading the way with technologies to enable the switch to natural refrigerants in the widest spectrum of applications.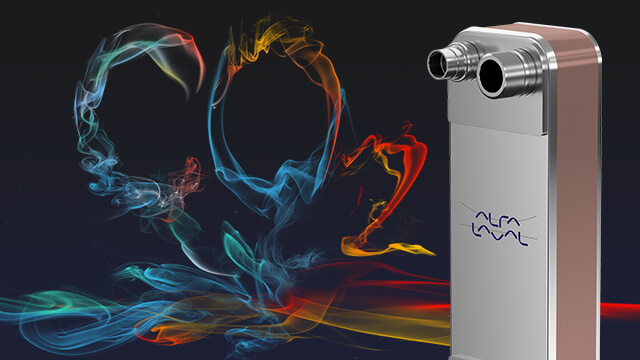 See our webinars
Alfa Laval is home to some of the foremost experts on the topic of natural refrigerants. At ATMO VTS, our own Tommy Ångbäck and Alessio Fadini delivered a webinar on the theme of "Driving innovation for natural refrigerants." This rare opportunity to gain practical knowledge from two of the industry's most experienced professionals is now available for viewing whenever you want! Get this and a wide range of on-demand expertise from other Alfa Laval knowledge leaders by visiting our xChanging Ideas webinar series.
Contact us today
If you have questions about solving challenges with natural refrigerants, or how our solutions can support your operation, do not hesitate to get in touch! Our experts would be happy to hear from you.
Heating and cooling expertise
Want to get more of the knowledge Alfa Laval has gained in our nine decades of experience in thermal transfer? Does your business need to access BIM files, 3D drawings or other consultant tools? Take a spin over to our Alfa Laval Heating and Cooling Hub for the latest resources for your industry.